So yesterday started out BEEEEEE-U-TEEE-FULLY!
I FINALLY got to visit Prairie Dog Town! I've known this place existed for about 5 years and have wanted SO badly to visit but we always pass it when it's closed. I've been staring at the little brochure for over a year now… see that yellow thing? Yeah, that's above my head, where I sleep on tour. An every day reminder that SOMEDAY I will get there.

It was cool. The owner, Larry was quite a character. Rattlesnake wrangler and teller of some pretty funny jokes. Apparently the place is for sale. He and his wife are just looking for the right person before they retire. Hummmm. I never thought I'd end up in Kansas but it is quiet, I could talk to travelers all the time, maybe we could build a studio…. I don't know. Pretty tempting. Most of the animals are "….abandoned and rescued creatures, or unloved freaks who find companionship and a meal." My kind of critters…
The strangest part of the place for me wasn't the 6-legged cow with two butt-holes but that the prairie dogs could come and go and it seemed like the little families within the group (100s if not 1000s) all had different places they liked. Some of them liked the dry cracked area by the entrance, some liked the poo filled cow and buffalo area, some liked the area by the pond, some liked it just outside the fence, and some hung out by the chickens. I personally would've set up shop by the pond. Even in it's green algaeness… or maybe with the piglets. They were so excitable and SMART!
Here are a few pics, I won't over do it… and we have video… this video thing might not happen till we get home and have a few hours to get it all started.
A lazy lazy boy…

BABY! I have a video of this little interaction…

Mrs. 2-butts on the ground there….

And the 8,000 pound Prairie Dog!

As we drove away we passed huge sunflower farms… they yellow blur = sunflowers…

So the day's adventures continued… picked-up some hitchhikers, well broken down cyclists. I really thought Luis was joking when he yelled, "Hey Fuzzy, wake Kelly up. We're going to pick-up three sweaty cyclists." These three boys had ridden all the way from DC, their final destination was Denver and they ran out of tire tubes 50 miles out. We asked if they were disappointed and they said, "No. Please just give us a ride." So we did. They were super sweet and cute and looked way older than they were… I guess that's what a beard and riding a bicycle for 33 days will do to you! I can't wait for our paths to cross again. Hope they find their way home without too much excitement!
Then after that… delicious food at Taki's, a dress/gift in a bag (yeah, I wore it!), and two bad-ass bands in my favorite Denver venue!
The Allergies and Red Stinger at Bender's Tavern.
After the show I was complaining a bit about our drive. I mean, 1100 miles and not long enough to do it! When someone volunteered to help out. So we said, okay, that makes 4 hitchers in 1 day. He must remain unnamed for now… at least until he gets fired because his boss finds out he's NOT at his favorite uncle's funeral.
So yeah. I'm now in Utah. We haven't stopped except for a 2 hour nap (6-8am) at a truck stop and of course… Taco Bell to go.
We will be in California today and I have to tell you… that makes me very VERY happy.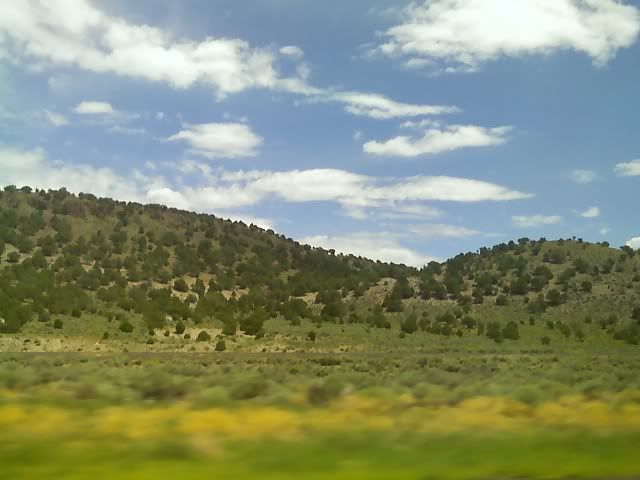 No comments
No Comments
Leave a comment