Archive for September, 2009
Helllooooo
So here we are in South Carolina. Taking it easy watching trash t.v. Stallllionairesss. Ha.
Tours been interesting so far. Texas your always fun. We had Daria, our favorite Austinite, come on stage and do her thing. Too much of her thing. None the less she was fun. Dallas and Houston was another round of good times too. Over all..thank you Texas. Next stop was somewhere in Missouri. Lots of dancing, possible hallucinates being passed around among the dancers….which was causing them to break out the glow sticks. We played, we saw, we left. Met up with our new friends Black Gold in Atlanta and met a new Atlanta friend Nastassia, shes rad. Drunken Unicorn was a cool place… nice old club vibes.
Fixed the breaks in the Silver Bullet and now we are in SC. Tomorrow, The Milestone in North Carolina.
I think im getting a cold.
Jenn is shooting some video.. so we will have that soon. Im tweetin pics so join us at twitter.com/girlinacoma.
Guess what… we are working on a special treat for all of you after this tour. We are starting on it now.. and soon it will be in your hands.
More soon.
xo

No comments
Hello All,
We are getting ready to hit the road again! Yayayaya. Some more new merch.. shirt designed by Jenn and Trio B.C. jackets!
Been practicing all week.. gunna try and bust a cover out. The band- Velvet Underground.
We plan on finishing the year off with touring and a fun suprise show on New Years eve.. We will annouce where and with who later.
For this tour we are off with a band called Black Gold.. check them out here : myspace.com/blackgold. They will be coming off a tour with Neko Case. We are super excited and you can start getting your presale tickets already for some of the shows. Los Angeles Troubadour tickets are already available too. Go to the venue .. they are cheaper. It's always usually cheaper if you buy them direct.. but if your a busy guy or girl and dont mind the extra fees.. then online is for you. We are still working on an El Paso date but all the dates are pretty much up.
This Saturday we have a free show here in San Antonio at the Market Square main plaza. Pinata Protest, Bombasta , Groupo Fasma and more will be playing too. Starts at noon and we will hit the stage at 10:00pm. Get there early going to be a rad day… Here is the flyer: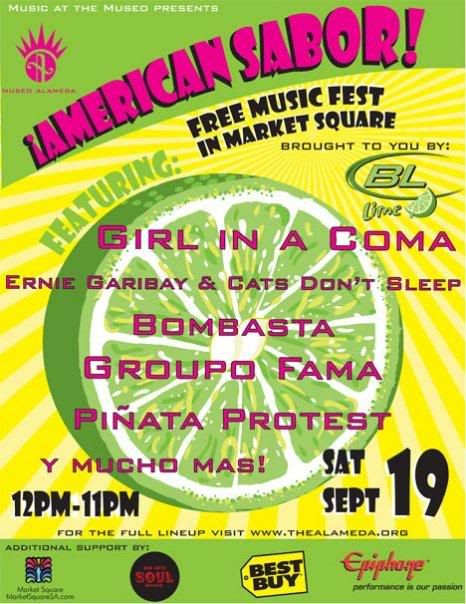 Jenn and our new tour manager Alicia will be filming on this tour… so watch out for more silly youtube videos. We have an official youtube channel if you wanna subscribe.. here ya go: http://www.youtube.com/user/giacvideo#play/favorites
we also have a facebook: www.facebook.com/girlinacoma
and twitter:www.twitter.com/girlinacoma.
I tend to post lots of pics while on the road threw twitter… so that would be your best bet on keeping up on the tour.
So yes, that its for now. We will see you all soon out there somewhere.. much love…xoxox-P
No comments