Archive for the 'Uncategorized' Category
Hello All,
We are getting ready to hit the road again! Yayayaya. Some more new merch.. shirt designed by Jenn and Trio B.C. jackets!
Been practicing all week.. gunna try and bust a cover out. The band- Velvet Underground.
We plan on finishing the year off with touring and a fun suprise show on New Years eve.. We will annouce where and with who later.
For this tour we are off with a band called Black Gold.. check them out here : myspace.com/blackgold. They will be coming off a tour with Neko Case. We are super excited and you can start getting your presale tickets already for some of the shows. Los Angeles Troubadour tickets are already available too. Go to the venue .. they are cheaper. It's always usually cheaper if you buy them direct.. but if your a busy guy or girl and dont mind the extra fees.. then online is for you. We are still working on an El Paso date but all the dates are pretty much up.
This Saturday we have a free show here in San Antonio at the Market Square main plaza. Pinata Protest, Bombasta , Groupo Fasma and more will be playing too. Starts at noon and we will hit the stage at 10:00pm. Get there early going to be a rad day… Here is the flyer: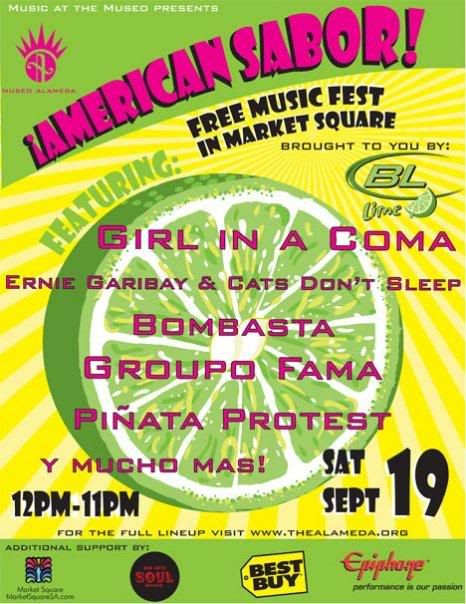 Jenn and our new tour manager Alicia will be filming on this tour… so watch out for more silly youtube videos. We have an official youtube channel if you wanna subscribe.. here ya go: http://www.youtube.com/user/giacvideo#play/favorites
we also have a facebook: www.facebook.com/girlinacoma
and twitter:www.twitter.com/girlinacoma.
I tend to post lots of pics while on the road threw twitter… so that would be your best bet on keeping up on the tour.
So yes, that its for now. We will see you all soon out there somewhere.. much love…xoxox-P
No comments
Yes, yes of course it will!
Tomorrow we head in to "officially" start album 3 with Chris Testa (worked on Eat My Heart Out and Because I'm Awesome too). We have been creating this record diligently since we got home from tour in August… demo's, re-writing, transposing galore! I think we're ready. We've never been this prepared before heading into the studio.
Even our guitars are more prepared this time! We dropped them off with Greg Leon, guitarist and guitar technician extraordinaire yesterday. Then after a little lecture (these are among the worst I've ever seen… you really need to take care of these etc) this afternoon we were all on our way!
Lots of cool stuff happened and happening… lets try to remember… other than our music… Obama is our president, The Breeders @ The Wiltern, Cheap Trick @ House of Blues, The Dickies & Blockage @
Punk Rock Social, The Bodies @ Punk Rock Bowling (where our team, The Punk Rock Socialists placed 23rd in the "B" League! Trust me that's grrrrreeeat!), The Melismatics @ The Viper Room and The Muffs @ Spaceland with US and Calamity Magnet! Went to Florida for Christmas and New Years, took Quito to some dog parks, sorta caught up on my email and myspace, watched some car chases, bleached the crap out of my hair, cleaned my closet, stuff I can't remember right now… you know.
So I'll leave you for tonight with toughts of new songs and The Dollyrots in your town (or as close as we can get). We'll be in Austin for SXSW and we're booking some South West dates for May with The Action Design… We will see the rest of you soon enough! New record out BY June!
Ps: Luis is on Twitter, sometimes.
Pps:Chris and I are on Utterli, KellyO, Chris, sometimes.
Ppps: I'm gonna start Twit Pics and drop Utterli asap… so many TWITTERERERS
pppp: MARKY RAMONE
LIKES US!
Nighty night. I have work to do… but pics first.
Luis, Mamie, Me and President Obama

and what I'll be doing, boy do I need a new phone camera…

No comments
Welcome to Blackheart Records new online blog. Check out latest stories, news, information and other fun stuff from all of Blackheart's bands and staff.
No comments